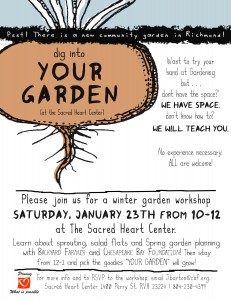 Come join the Sacred Heart Center, the Chesapeake Bay Foundation and Backyard Farmer for a winter garden workshop where you will learn how to plan your garden with maximum effieciency and ease.   Backyard Farmer will go through the simple steps we can all take to make sure our gardens are productive and healthy.  We will be discussing crop selection, garden charts,resources for home gardeners, as well as the basics of sustainable agriculture at home and in the neighborhood.   Enjoy a special presentation by Jay Burlinsone of JMB Greengardens; he will share his experience with the tastiest and most successful plants he has trialed in Virginia.
After the workshop, there will be an opportunity to take a look at the Sacred Heart Community Garden and apply what you just learned to a sample garden plan; or, you can learn about the simple wonder of sprouting in a jar ($25 fee covers your sprout kit, jars, seeds and instructions)
A special thanks to the Sacred Heart Center who has lent us the use of their facility, which is located at 1400 Perry Street, Richmond Va 23225.  Save the date, tell your friends, bring the family, just make sure you are there!  If you want, download a flyer and put it up at your place of work or share it with a friend.
Contact Jess Barton or Backyard Farmer for more information.