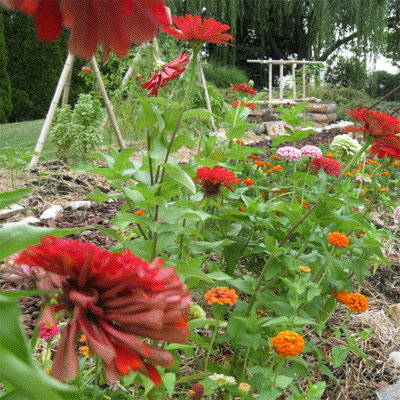 Rachel Carson famously wrote in Silent Spring, "It is ironic to think that man might determine his own future by something so seemingly trivial as the choice of an insect spray." This Earth day, celebrate with Backyard Farmer by naturally growing your own safe, non-toxic pesticide plants.
How do natural methods work? When pesticide plants mix with edible plants, they emit a bitter aroma that confuses insects into thinking nothing delicious is growing. Choose one of these methods and you will never need to buy a can of poison again:
Interplant garlic to scare off Japanese beetles, aphids, and other pests. For infested areas, make your own spray by blending crushed garlic with water and cayenne pepper.
Decorate your garden's border with pyrethrum (Chrysanthemum cinerariaefolium or Chrysanthemum coccineum), also known as "painted ladies," for pretty pest-repellers. Pick, dry, and crush the petals to make your own non-toxic dust to scatter on infested areas, or make a tea from the dried petals and spray.
Plant feverfew (Chrysanthemum parthenium or Pyrethrum parthenium) and enjoy the lovely daisylike flowers that also mildly repel insects.
Scatter mexican marigolds (Tagetes minuta) and pot marigolds (Calendula officinalis) through your veggie garden for bugless crops.
To ward off fleas, ticks, and mosquitoes, plant pennyroyal (Mentha pulegium).
Keep ants and mosquitoes away with tansy (Tanacetum vulgare).
Backyard Farmer is here to answer your questions about incorporating natural pesticides into your garden plan—just contact us. Let us know what you experiment with and how it works!
Of course, you can always invite a class of first-graders to come to your garden. Kids love picking off bugs!
Here's to Earth day and every day we can all make changes for a greener, safer, more natural world. Source: Mother Earth News.